Hello, LC.
In this post, I will introduce you to a Mod, that lets you change your recommended builds in-game.
I will be happy to answer any question I can, either leave a comment or PM me.
With this Mod, you can change your recommended build in-game, I know many of you may raise several questions of how this can be necessary, and I gotta tell you, that it doesnt make any difference to your gameplay, but it does give you that extra point of control you may feel you need in a game such as LoL.
I find this program specificly needy in situations as TF and Kog'Maw, where most people would build either of them as a Fighter with Attack Damage and Attack Speed items, where I, on the other hand would build them Hybrid or full Mage build.
Also, for those of you that jungle, you can add ARmor and Health Potions to the recommended build, so you can get a quicker kick-off.
Same for all of you supporters who buy wards all the time, when time is of the essence, you may wish to add wards to your recommended build. I'm doing this when I play Janna myself.
I know that alot of you alredy have this program or something such as Yarik, I believe it's called, but I uploaded the program for free download and I figured that some of you may want to take advantage of that, atleast, I would've been glad to see a post like this, from someone else, before I found the post myself.
In this post, I will be using Akali (The Fist of Shadow) as an example, please note that the build I use I completely random and I do not intend for anyone to use this build or anything and this post has nothing to do whatsoever with builds for champions or the champions themselves.
The images are too "large" in size for them to be thumbnailed, so the thread is gonna get big.
This is how the program looks like by default, without any changes, as you see, this is the default recommended build of Akali, The Fist of Shadow: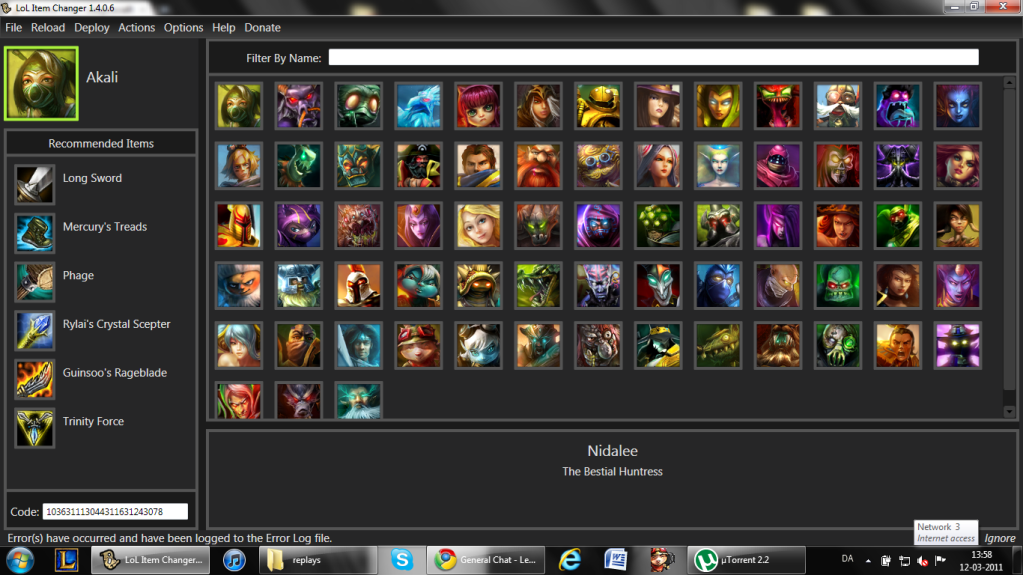 In this picture, you will see what happens if you push one of them items in the champions recommended build - You get all the items to your right. You can simply draw a item by holding down your mouse bottom and replace it, or mark one item and then another to swap them around.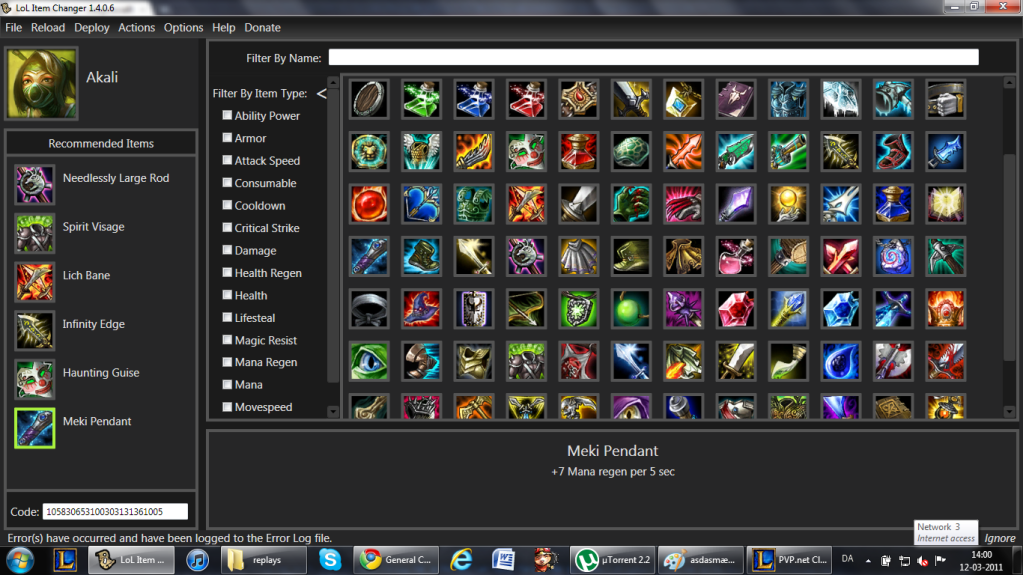 In this picture, you will see how to "update" your changes from your program, so that it will affect your client and work in-game. 1.Deploy 2. All Items/Current Champion's Item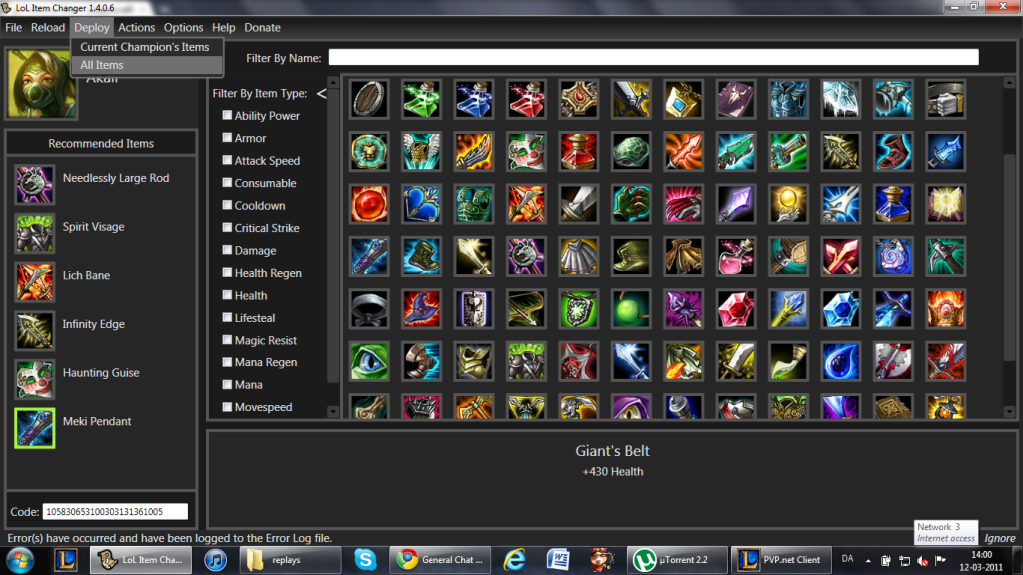 When you download the client and open it, it will ask you to chose a directory, or rather another directory, until you get the hang of the program, I recommend you to just tag along and press "ok" until you feel more secure.
Mod Download link:
http://www.megaupload.com/?d=BFEJGT5A
The program is a .zip file, you can chose to unpack this file with an unzipping program, I would highly recommend using WinRar.
WinRar download:
http://www.rarlab.com/download.htm
I uploaded the Mod to Megaupload myself, so if it does not work, please, let me know. It works for me, so should work for you, but looking at my luck the last few days, it will probably bring along a plague or something.
I would have added some in-game footage aswell, but sadly, it didnt work out for me as planned, allthough, you shouldnt doubt this Mod.
I alredy scanned the file twice and I didn't find any harmful files.
I hope this helped some of you !
Please +1 if you like this (: Put some effort into it, so would be awesome.
Regards, Smitra.
EDIT: The default build picture didnt work, so I had to update the link.
As I come to think of it, I dont know if you people prefer for this to be in the Mod forum, if so, could a admin please transfer it? I feel like it's general talk about the League aswell, so figured general discussion could go.
Waltorz, on 12 March 2011 - 03:07 PM, said:
http://www.leagueofl...ad.php?t=145862
is the original poster and creator of the mod. He keeps people updated in that post (there is also a thread in the EU.lol site, but can't find it at the moment). He helps with troubleshooting, he fixes bugs, he does everything!
This guy (yourbuddypal) is great, helps people, is workin on version 2.0 with even more options, so gogo yourbuddypal.
Not sure whether you are just spreading the word or claiming this mod as your own, because that would be lame..
No, I am not the creator of this Mod and I will never claim to be, I simply got this Mod from a friend and wanted to share it with the LC community, I did read the other persons mod from the official forums after getting the mod, though - All rights reserved to the respectful owner and creator of this Mod, I do not take any credit what so ever besides the bad grammar work of this post.
Edited by Babminkinarulle, 12 March 2011 - 03:26 PM.